News Roundup - Google Earth in Maps, OpenLayers 2.9, and No More Spock
First up in this month's news roundup is the addition of Google Earth (or the Google Earth plugin to be precise) to Google Maps. I'm surprised it took this long to integrate the two, but cool beans nonetheless. Now they just need to add a Linux client (it only works on Macs and PC's).
Also this month, Google released high quality 3D imagery for NYC (imagery from streetview added to the models I believe) to allow almost photo-realistic quality fly throughs. It's work a look if you haven't seen it.
OpenLayers 2.9 has been released, with new features, improvements, and a ton of bug fixes. I've rolled it into production on a few sites and I haven't run into a single problem. The graticule control is great, and they finally made the layer control CSSable so I can drop my hacked version. Big thumbs up.
Microsoft was in the news a few times this month. Garret Serach of their Open Source Technology Center is working on package management software called CoApp. The idea is package management for Windows would help people install open source software on it, but hopefully it doesn't stop there. Package management on Windows is the most broken god-awful thing imaginable. Spend 15 minutes with practically any Linux distro and you'll see what I mean. Even Bill Gates hates it. Microsoft has also sponsored the WOFF web font standard, joining Opera and Mozilla. No news on whether that's targeted for IE 9 or not, but it's a big step toward open font standards for the web. It wasn't all sunshine and rainbows for MS this month however. The ISO OOXML document standard, which they muscled through the standardization process, won't even be supported by Microsoft any time soon. As Ars put it, "It is increasingly obvious that Microsoft only wanted to be able to advertise its format as being ISO-approved and never really cared about interoperability or actual conformance with the standard." Ouch.
Here are a few quick-hitters this month: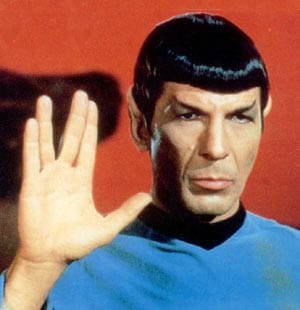 And finally, in news of the sad, Leonard Nimoy has announced his retirement from acting and is hanging up his pointy ears for good. Sigh. Live long and prosper.